Why Is It So Hard to Write My Essay?
"I'm trying to write my essay with all the effort I can invest. It doesn't work. I need more time. I don't have enough skills. Why is academic writing so challenging?"
There are several reasons why essays are hard:
●
Professors make them that way. They don't want to assign easy projects that anyone could complete. They want to challenge students beyond their limits. This is needed, so that they could distinguish the exceptional students from the average ones.
●
The fact that professors assign challenging essays is not enough. They make things more difficult by NOT explaining how you can complete the papers. They fail to give you instructions, yet they expect you to complete perfect work.
●
You don't attend a single course at university. You have several of them per semester. This means that you're dealing with multiple assignments at a time. You can hardly handle one of them.
These are the reasons why so many students think: "I'll have to pay someone to do my essay." It's the only logical way of reasoning.
You know what successful leaders do when they get overwhelmed by tasks. They delegate. Your professors teach you to think like a leader. Delegating the writing task to a pro is the best thing to do.
What Can I Do to Write My Essay without Help?
"Before I hire someone to write my essay online, I would like to make an attempt and write it myself."
That's the right way to think!
We encourage students to try to get better at writing. With enough practice and dedication, anyone can develop writing skills.
We'll give you a few tips, coming from our pro writers. Before you come to us with the request "I want you to write my essay for me," try going through these steps:
●
Note down your ideas as soon as your professor assigns the project. Do not procrastinate! You attended the lectures. Your professor gave you some hints, which should make the writing process easier. If you wait too long before you start, you'll lose the initial enthusiasm.
●
Start with an outline! Students often skip this step, thinking they would save time if they started writing the essay immediately. That's a mistake. The outline won't take much time. You'll plan what to write in each section of the paper. When you have those guidelines, it will be easier to fill in the text.
●
Research as much as possible. You can use Google Translate to dig into original sources when you're writing about foreign issues. Your resources have to be of high authority. That's how you'll impress your professor. Don't forget to reference them! You have to follow the citation style that's required for this paper.
●
Don't skip the editing stage! It's boring. You think you already wrote the paper and it's fine. But if you go through the process of diligent editing, you'll polish up the essay closer to perfection.
This is the most important thing to remember: no matter what obstacle you face, don't panic! You always have a solution: you can come to us and say: "I need you to write an essay for me." Do your best to write that paper. If it doesn't work out, you'll have a solution.
What If I Need Someone to Write My Essay for Me?
"I did my best to write my essay and it didn't work." It's okay.
You should know that hiring an essay writer service to complete your work is a legit thing to do. Our company operates by UK regulations. It's a registered agency with every right to offer ghostwriting services to its customers.
If you come to us asking for essay writing assistance, we'll comply with your requirements. You shouldn't feel guilty about this. You made your effort, and now you have these options:
●
Don't submit the essay. Your final grade will suffer if you do this.
●
Ask your professor for more time and additional instructions. In most cases, the students who do this don't find any understanding from a teacher's point of view.
●
Order the essay online, making sure you choose a reliable writing service like AssignmentMasters.
You know what the right decision is. If you rely on our assistance, no one will figure it out. We'll work by your instructions. We'll deliver original content without any sign of plagiarism.
How Do I Hire a Writer to Write an Essay for Me?
This is the process of hiring writers on our website:
1.
First, you should make the decision: "I'm sure I want to pay someone to do my essay." When you know that you want to count on our service, you can fill in the order form. We don't make that hard for you. The form guides you through all the details that we need. Fill them in.
2.
We are ready to accept your order anytime. Even if you place it in the middle of the night, we'll assign a writer right away. All our writers are native English speakers with university degrees from the UK. However, we have them available around the clock, so we can meet students' requirements.
3.
The writer will have enough knowledge and experience to handle your essay without delays. That's why we can guarantee this: you'll get the perfect essay on time.
4.
The process doesn't end here. We'll invite you to check your paper and tell us if you like it. If you do, we'll appreciate your feedback. If you think that it could be better, we'll wait for your instructions and we'll revise the essay free of charge.
Why Should I Choose AssignmentMasters to Write My Essay?
"If I'm ready to hire someone to write my essay for me, why can't I choose a random service?"
Choosing a random website would be a mistake. You're practically gambling with your money, since you can't know what quality you'll get.
You need a tested and proven writing service when you're thinking: "I'll hire a pro to write my essay online."
Assignment Masters is the right choice for many reasons:
We hired the finest writers in the UK to complete your papers. We made sure they are talented in writing and they know their grammar. This is more important: they are knowledgeable. When you give us a topic from social sciences, we'll find a writer with an adequate postgraduate degree to work on it.
We scanned the market to understand what price students are willing to pay. We made sure to provide the best working conditions for our writers. Our writers get fair pay, so they are motivated to complete your papers. You pay a low price that works for you, but is fair to them as well.
You are getting free revisions until you're 100% satisfied with our work. We stay true to this policy. We never deny the requests that are placed in accordance with our policy for free revisions.
Speaking of policies, they are fair and customer-oriented. You can check them out before you order an essay on our site.
How Will Your Writer Write My Essay Online?
When you come to us saying "I need a professional to write an essay for me," we'll maintain a clean process that never fails to deliver good results. This is what the writer will do:
●
They will closely analyze your requirements. They have a goal to deliver an essay that works for you. They have to make it unique while conveying your point of view.
●
The writer completes an outline. It's an important step of the process, which ensures a focused final paper.
●
The writer will complete the paper, making sure to reference all used resources.
●
Our editing team will add the finishing touches. We want you to get a perfect essay that's ready to be submitted.
How Much Do I Need to Pay Someone to Do My Essay?
"I like everything about your service, but how much will you charge to write my essay for me?" Students often ask that question. They are intrigued by the opportunity to get a brilliant paper on time. But they are worried about the price.
We are transparent with our pricing policy. The quotes start at only £17.78 per page. If you compare that price to competitive services, you'll notice that Assignment Masters is a more affordable service. We'll give you a 20% discount on your first order to make you an even happier customer!
Order Now
Free features
Outline

£5

Title page

£5

Bibliography

£10

Formatting

£10

Unlimited Amendments

£30
Paper Format
275 words/page (double spaced)
550 words/page (single spaced)
1 inch margin
12 pt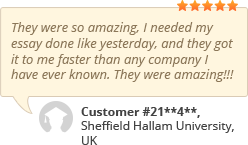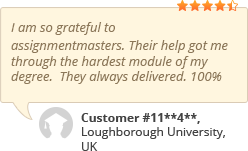 What you get with our service
Customer support 24/7

Direct contact with your writer

100% Confidentiality

100% Security

Delivery on time