General structure and specific features of research papers
Research papers can be a pain in the neck, but they are part of your academic requirements. When doing one, remember to follow the guidelines for structure and formatting. There may be variations in these guidelines from one educational institution to another, but it makes no difference to the professional writers at Assignment Masters. They have made research paper writing their career, and are familiar with all formats.
Strict adherence to structure and formatting requirements is important in your coursework. It has a direct effect on your assessment because it indicates your ability to understand and follow instructions.
When writing research papers, you may find that you have to exercise your ability to think analytically and critically more than the ordinary. You need to put together several information from various sources and make the whole more than the sum of its parts.
You are not just parroting facts. You need to understand their implications in certain theoretical scenarios. If you are having trouble doing this, Assignment Masters is always on standby to provide research paper writing help.

How our writers find subjects, gather data and make statements
One of the hardest things in research paper writing finding a topic broad enough a good number of good references available, yet narrow enough to manage within the amount of time and resources given. In most cases, our writers are given a general topic for a research paper. They come up with a few options for narrowing it down, based partly on the available material, and partly on your expressed preferences. Once the topic has been narrowed down to your satisfaction, our writers will create a clear and succinct thesis statement that becomes the basis for data gathering. Assignment Masters have access to a vast library of peer-reviewed and reputable reference materials for any topic in different fields. From this plethora of resources, our writers will form a preliminary list of references related to the topic and evaluate each one. They will jot down notes and create research summaries. Once they have adequate number and quality ofsources, they will create an outline for your paper and work on the bibliography.
Research Paper Sample by our Writers
| | |
| --- | --- |
| Topic: | The Impact of the European Crisis on UK's Small Businesses |
| Number of pages : | 5 |
| Urgency: | 7 days |
| Subject: | Social sciences |
| Style: | APA |
| Number of sources: | 2 |
| Academic level: | Undergraduate |
Once you receive your order, don't forget to share your opinion here:
The writing process
With the references and outline in place, you need to tackle each section of the paper and create the rough draft in four consecutive steps:
Writing the Introduction
Usually the most challenging part, this covers a lot of material in just a few paragraphs. The length depends on the research paper type, but should be as brief as possible. You need to discuss the broad context of the chosen topic then narrow it down to specific questions and hypotheses. You have to craft and introduction that will catch the interest of your reader and will explain the purpose of the study.
A brief historical background of the research should be discussed. This will then segue to the rationale by explaining the study that builds on previous work, or clarifies unclear results in earlier researches.
The next part will set out the limitations and assumptions of your research.
Writing the Body
The meat of the paper is the body, which includes the literature review, methodology, data analysis, results, and discussion. It is a lot to go through, which is why you need an outline to keep it organized. Assignment Masters can provide you with a detailed outline that will serve as your guide.
To get started, take the notes you have made and arrange them in sequence based on the outline before you start writing. This includes any information or illustrations you have borrowed from a source, duly attributed to serve as citations for any statements you make. You will be constantly referring to your outline and these notes to prompt you from one sub-topic to another.
Organizing your notes might seem like a lot of prep work, but it can save you much time once you do start writing. With this done, you will not waste time hunting for a passage or image you need thereby interrupting your flow of thought. It also helps in citing your sources, making the writing process smoother.
Writing the Conclusion
You will use most of your research on the introduction and body of the research paper, but your conclusion is what will put it together. In general, the concluding paragraphs are circular in nature. You have to go back to the start to revisit the stated purpose of the study, and to discuss how the presented evidence supports (and in some cases, refutes) this statement.
The importance of writing the conclusion, however, is not in restating the topic and evidence. That's just to bring your reader up to speed. The main purpose of the conclusion is to synthesize your thoughtsand ideas about what you have just established, state its value to the field, and how future research can improve upon it.
The tone of your conclusion will depend on the type of student research paper you have written. If you are attempting to persuade or argue a point, you will put emphasis on the primary points you brought up that supports your original statement. If you are trying to make an in-depth analysis of a topic, you conclusion will be mainly a summary of the all the analysis you made.
Our pool of professional writers has Master's Degree and PhD in their fields, which make them uniquely qualified to make valid arguments or analysis on any topic.
Revising the Final Draft
The first draft of your paper should encapsulate all that you want to say about the topic. However, when you read through it you might find that it is not as clear as you wanted to be.You might not have given a certain sub-topic as much attention as you should have. You might even have contradicted yourself several times. It is likely that you will have several revisions before you are finally satisfied with the contents of your final draft.
After revising the substance of your paper, you have to turn your attention to weeding out typographical and grammar errors. For this, you usually need a fresh set of eyes, preferably a target reader. Most writers are constitutionally unable to proofread their own work. They develop blind spots because they tend to jump from sentence to sentence rather than reading it word for word. Our editors and proofreaders can be your fresh set of eyes, and will even check for plagiarism.
Research paper writing follows standard guidelines that appear simple enough on the surface. However, when you get down to getting done, there is much time and effort involved in accomplishing each step properly. You can call Assignment Masters to lend a hand anytime you get stuck, or you find yourself running against the clock. You can be sure they will get the job done as you want it and on time.
Free features
Outline

£5

Title page

£5

Bibliography

£10

Formatting

£10

Unlimited Amendments

£30
Paper Format
275 words/page (double spaced)
550 words/page (single spaced)
1 inch margin
12 pt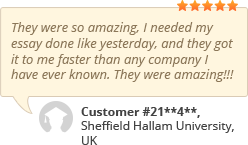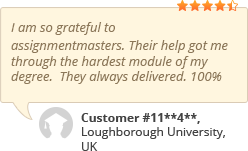 What you get with our service
Customer support 24/7

Direct contact with your writer

100% Confidentiality

100% Security

Delivery on time