Academic writing is a very complicated field. Students need to get the best quality papers on specific topics, which requires broad skills and mindset. Our creative team consists of four brilliant individuals, each with a unique character and background. Each of them bears responsibility for a certain chunk of orders. Linda Craig was the first to join our team. She used to be a regular writer, who was making a significant progress performing marketing tasks as well. It was her idea to introduce a news section to the site and create a marvelous English Literature Test. Now she is in charge of completing the most challenging and complicated dissertations. Laura, our brilliant writer, has a degree in History. Her main responsibility at Assignmentmasters is writing courseworks. She is engaged in close collaboration with Linda regarding marketing techniques for Assignmentmasters. Her marvelous ideas allow us to assist students in the United Kingdom as well as other countries with various academic assignments. Linda and Laura are the masterminds of every brilliant piece of content that we have produced so far.
This year two more bright persons have joined our writing team: Mary and Kate. They are essay writing managers and mainly focus on creating a steady flow of highly-specific and well-written essays on every possible topic. Mary holds a degree in Psychology, so everything related to smart insights and innovative ideas belongs to her realm while Kate is a data-driven analytical genius, who may perform complex programming assignments as well as research-based projects. Our team is constantly engaging with each other in order to find new approaches and ideas for our business. We constantly do our best to provide you with the best-written assignments and useful pieces of news.
Assignmentmasters' team strives to get better for you.
Add our website to your bookmarks - it's definitely worth checking regularly!
Free features
Outline

£5

Title page

£5

Bibliography

£10

Formatting

£10

Unlimited Amendments

£30
Paper Format
275 words/page (double spaced)
550 words/page (single spaced)
1 inch margin
12 pt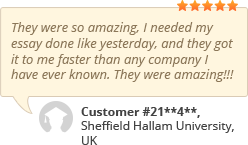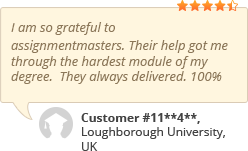 What you get with our service
Customer support 24/7

Direct contact with your writer

100% Confidentiality

100% Security

Delivery on time
TEST YOUR
KNOWLEDGE
of
ENGLISH
LITERATURE
Start test